SALT LAKE CITY, UT (Mar. 4, 2019) – SimpleCitizen, the digital immigration and visa technology company, announced today that Jennifer Baker is joining as Vice President of Product Operations. Baker brings over 17 years of immigration expertise and experience. Most recently, she was the Director of Knowledge Management at Berry Appleman & Leiden (BAL) LLP, one of the world's largest immigration law firms.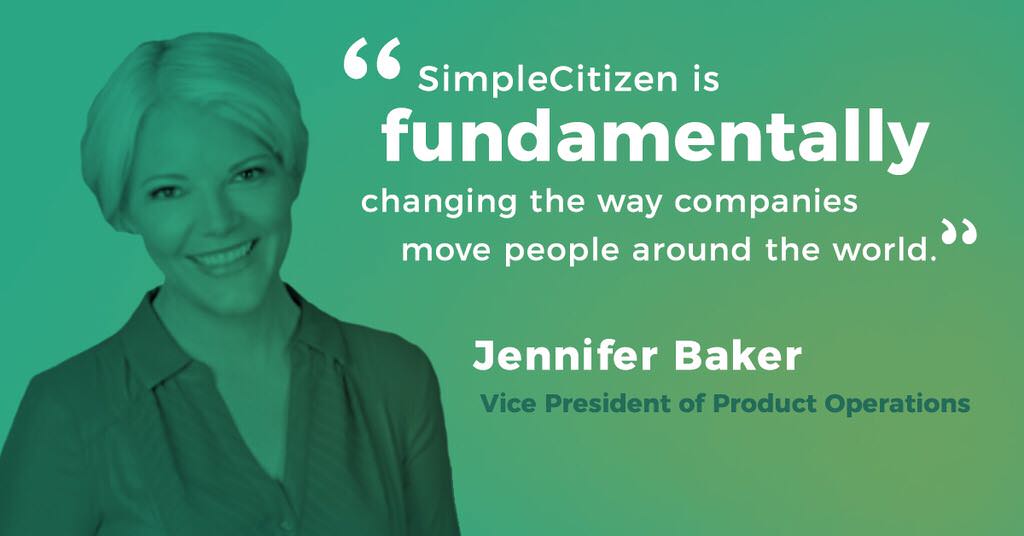 Over the course of her career, Baker has revolutionized global mobility programs for law firms and several fortune 500 companies. Her vision, leadership, and experience in the immigration space will help SimpleCitizen continue to grow in the business immigration and mobility market.
"Jennifer Baker is an incredible addition to the SimpleCitizen team" said Curt Roberts, SimpleCitizen board member & Kickstart Seed Fund Partner. "Her unique insights into technologies around workflow automation, agile development, data analytics, and compliance will help SimpleCitizen deliver innovative immigration solutions to the market."
"I've seen a real need for innovation in immigration. It's what customers are demanding" Jennifer explained. "As I've built tech within law firms I've seen the several limitations that Big Law faces with trying to build their own software. I'm excited by the speed at which SimpleCitizen is fundamentally changing the way companies move people around the world. I'm lucky to be joining such a passionate and driven team."
Ayde Soto, Co-Founder and CTO said, "I'm thrilled to welcome Jennifer to SimpleCitizen. She's bringing the knowledge, expertise and leadership that will help accelerate and expand our product roadmap to serve the entire Global Mobility Lifecycle."
About SimpleCitizen
Founded in 2014, SimpleCitizen is an immigration and mobility solution that makes moving employees around the world easy. As a truly comprehensive solution, SimpleCitizen's technology automates and reports on immigration cases, employee travel, expat tax, and relocation matters around the world.
SimpleCitizen is backed by Y Combinator, Kickstart Seed Fund, Pelion Ventures, Peterson Partners, TEEC Angel, Comcast Ventures, Kima Ventures and AppleTree Capital.